We can all feel that there has been a shift. A shift in our way of thinking, where our priorities are, and how we are spending our time. Elmcroft embodies that shift. Our 500,000 SF groundscraper is meticulously designed with your company's success and wellbeing in mind.
Safely loading and unloading a building is one of the biggest hurdles that companies face as they return to work in our new normal. Using multiple secure access points, paired with internal staircases and elevators, our tenants can avoid unnecessary pinch points and safely load their employees in and out of their offices.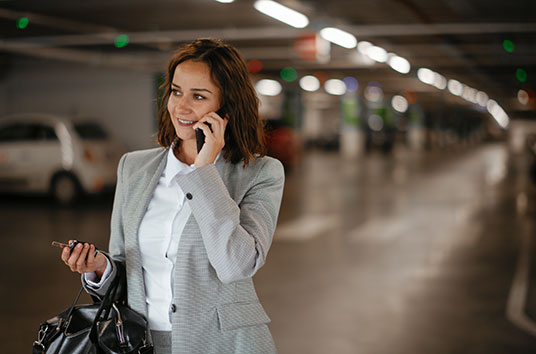 Elmcroft boasts a secure, covered parking garage that allows employees to directly access their workspace without having to enter a common lobby. Touch-free technology, integrated at all entry points, further reduces the risk of spread.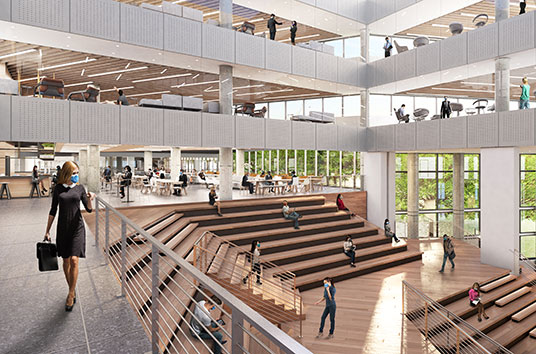 Elmcroft's groundscraper layout allows for the use of stairwells and convenience stairs as means of egress, allowing employees to have the option to travel safely from floor to floor without the use of an elevator.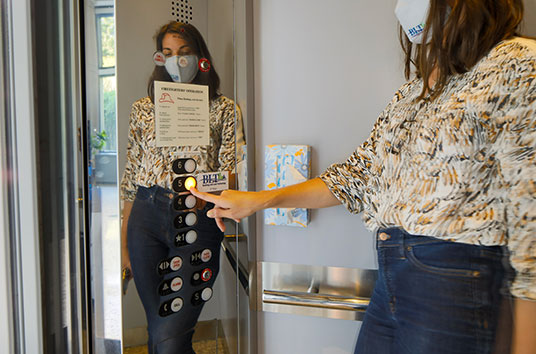 A CLEANER, SAFER ELEVATOR
Elevators are equipped with a UV Sterilization Fan that combines a negative ion generator and UV lamp and a fan to kill over 99% of germs. Elevators are programmed to automatically return to the lobby with the doors remaining open to maximize air circulation.
Innovation & Safe Collaboration
Through its collaboration with Steelcase and Red Thread, BLT implemented a state-of-the-art, stand-alone collaboration space located within the existing 1 Elmcroft Lobby. "The Cube" is equipped with cutting-edge technology, paired with a socially distant furniture layout, and anti-viral materials creating an inspiring, high performing and most importantly safe space. This space allows employees to confidently welcome visitors back into the building for in-person meetings without potentially spreading the virus to larger occupied workspaces.
Lifestyle & Convenience Offerings
Safe spaces that promote health, wellness, and work-life balance.
Wellness-Centric Design
Elmcroft features a robust MEP design that takes into consideration science and best practices to create an unparalleled level of wellness and safety throughout the building.
Integrated BMS will drive the optimal indoor air quality.
Utilizing an air economizer paired with operable windows, our goal is to increase the amount of fresh air to 30% or greater, double the current code requirement.
Ventilation purge cycles before and after occupancy.
Increased toilet exhaust air volume to remove contaminants from restrooms.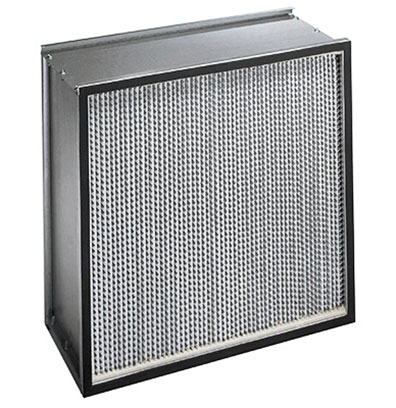 MERV 15 filtration will be installed building-wide with both traditional filters and bag filters for high efficiency removal of contaminants.
These filters will remove 50% more contaminants than the filtration provided in typical office buildings.
Filters will be monitored and changed out regularly (minimum quarterly) to ensure proper functionality.
UV/C lighting will inactivate bacteria and viruses by destroying the bonds that hold their DNA together.
UV/C lighting has proven to kill up to 97% of live viruses.
UV/C lights will be installed in the building air handling units to disinfect air being returned back to the units.
FAR UV will be utilized in high occupancy areas to actively and continuously disinfect surfaces and spaces.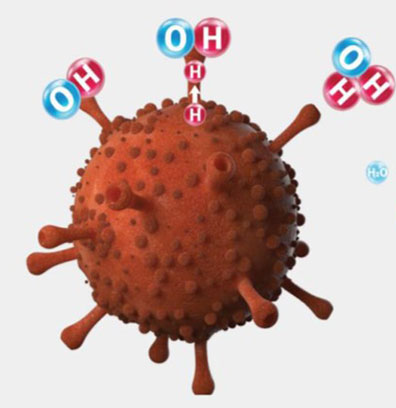 In order to promote respiratory health, reduce allergens and aid in the fight against viral spread, our designs call for Bi-polar Ionization to remove contaminants in the air.
Bi-polar Ionization generates ions in the supply air stream, which can be delivered to the occupied space. These ions will attract contaminants such as, dust, allergens, bacteria, and viruses so they can be removed from the air.
Bi-polar Ionization will provide superior air quality and deactivate airborne pollutants.
Convenient & Strategic Location
Harbor Point offers an exceptional quality of life in Stamford's hottest waterfront neighborhood, with abundant dining options and retail destinations, plus leisure activities and special events.
Stamford's meteoric rise began more than ten years ago and has not slowed. Situated in Fairfield County, one of the most affluent areas on the East Coast, Stamford has all of the modern attributes of a modern city without sacrificing its historic charm. Residents of Stamford enjoy a broad range of housing opportunities from single-family homes and condos to luxurious penthouses to rent or buy. Stamford also offers no shortage of ways to enjoy the outdoors including a number of parks and recreational areas, golf courses, nature trails and a vibrant waterfront. With four Fortune 500 companies and a broad variety of other well-known businesses headquartered here, the momentum is unmistakable.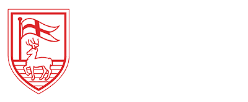 Often referred to as "The Sixth Borough" due to its proximity to NYC, Stamford is highly accessible. Once here in Harbor Point, visitors can take advantage of complimentary amenities such as the trolley service and water taxi offering access to various points in Harbor Point and downtown Stamford.
Contact Us
We are here for you. If you need help or just want to chat, reach out to us at any point.
Contact our Commercial Relocation Specialist today:
203-644-1507
info@bltliveworkplay.com